Features:
Dual Core i7-5500U 2.4 GHz Processor (Turbo up to 3 GHz).
GeForce GTX950M GPU with 2 GB RAM.
8 GB DDR3 RAM.
1024 GB HDD Disc
17,3-Inch Full-HD IPS Display.
Windows 8.1.
X751LX is 17 inch full HD laptop with good gaming capabilities a feature hard to find in a laptop under 1000$.
ASUS X751LX is a 17.3 inch gaming laptop under 1000$ designed by ASUS aiming towards the multimedia users and the casual games.
The laptop has an Intel Core i7-5500U 2.4 GHz Processor (Turbo up to 3 GHz) with 8GB DDR3L SD RAM, a NVIDIA GeForce GTX950M GPU for graphics processing and 1 TB hard drive at 7200rpm. It is meant to provide a good gaming experience without breaking the bank.
CPU
As processor goes the laptop has a dual core i7 which is a good processor but for gaming laptop this is draw back since most competition have quad core I7 processors, X751 should still run with out much problems most of the games since the CPU is not as important as GPU but this is big minus for this laptop.
GPU
It has NVIDIA GeForce GTX 950M with 2GB GDDR3 VRAM which is adequate for gaming at medium settings. However the laptop does seem to have a weaker graphics processor when compared to the competition which have a GTX960 but does have a larger display.
RAM
The laptop is provided with 8GB DDR3 RAM but is upgradable to 16 GB as it supports two 8 GB sticks.
Overall Asus will provide you with a good experience, but playing games on high setting will not be recommended. It could use SSD disk or SSD cache, but it is very uncommon for laptops in this price range.
Screen
The laptop supports a 17 inch Full HD (1920X1080) IPS display, which is the biggest displays available in the market for the price range. The displays colour reproduction seems to be good, texts turn out to be sharp and saturated. Overall a good display.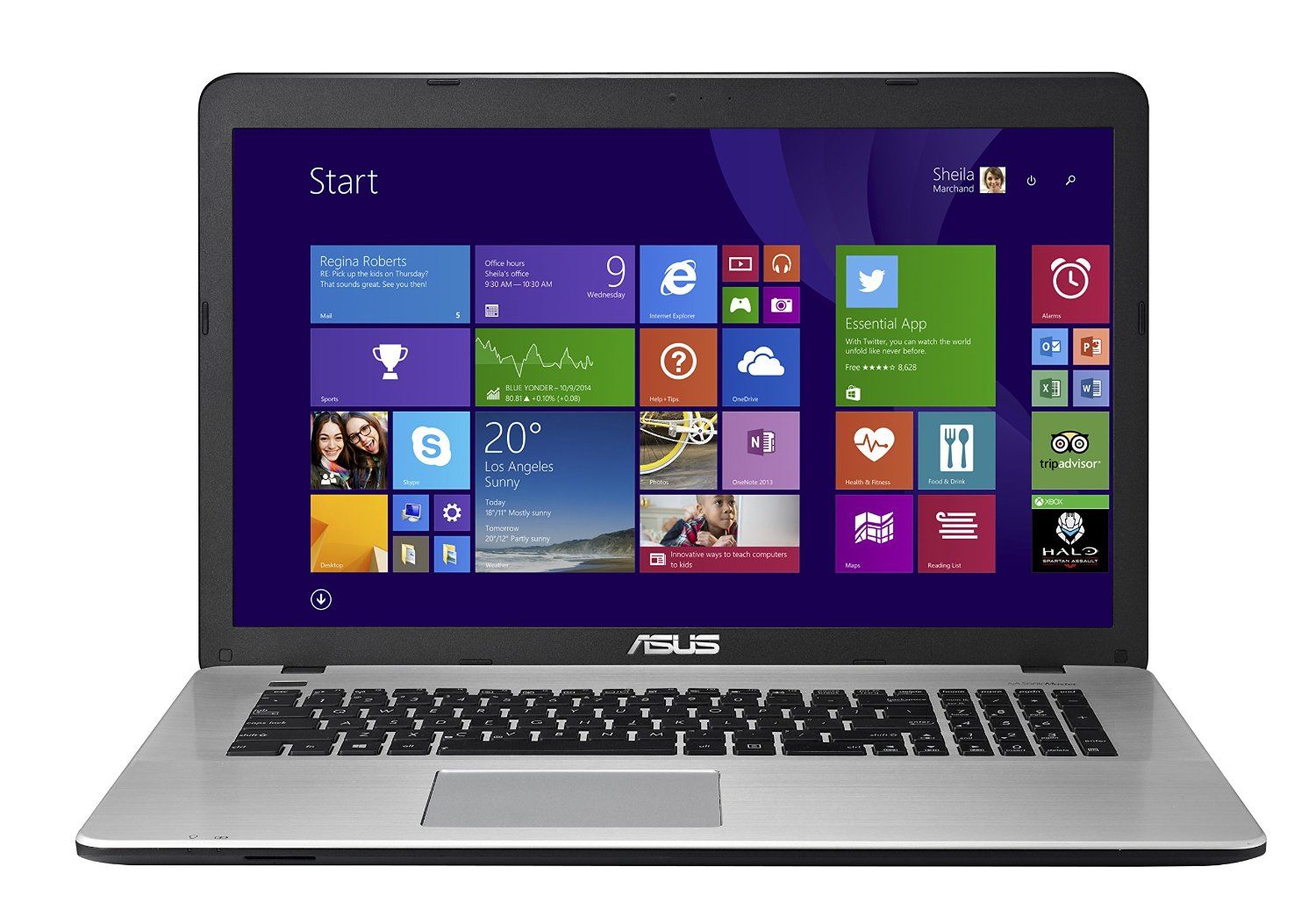 Connection and Ports
Coming to the ports to the left you find the Kensington security slot, Ethernet port, three USB 3.0s, a VGA port, an HDMI port and an audio jack.

On the right side of the laptop you have the optical drive and AC in.
Audio
The speakers sound good, the audio for laptop is provided by the sonic master.
Keyboard
With this laptop you will get an average keyboard. The keys provide good feedback and are good to type with. However the keyboard is not backlit, which makes it a bummer during night raids.
Storage
The laptop supports a 1TB SATA Hard Drive with 7200RPM.
Battery Life Time
The battery life provided by the laptop is average. Hence it is advisable to keep the laptop connected while gaming.
Features & Use Comfort

91%
QUALITY & DESIGN
---
Asus has good built quality with aluminum, the brushed aluminum surrounding the keyboard gives a nice touch, the top back cover also seems very pleasing.
Noise:
The fan's noise is pretty low. On high gaming slight noise is heard that isn't too disturbing.
Temperature:
The air vents are present both on the top and the bottom of the laptop. ASUS has pretty good cooling system I didn't notice any overheating problems.
Weight:
The laptop weighs 6.2 pounds, which is normal weight of laptop of this size
MY THOUGHTS
---
It is not the best gaming laptop in the price range. But if you're looking for an overall good laptop for casual gaming with a large screen for media consumption and are on a budget then it is definitely a good buy.